Cases we handle: WRONGFUL DEATH Accidents

Cases we handle: Wrongful Death Accidents

The loss of a loved one is an indescribable pain, a void that words can hardly encompass. When that loss is sudden and due to the negligence or actions of another, the grief is compounded by a profound sense of injustice. Wrongful death isn't just about the tragic passing of a life; it's about the dreams left unfulfilled, the memories yet to be made, and the abrupt shift in the lives of those left behind.
At Robert Hindin and Associates, we approach wrongful death cases with the utmost sensitivity and care. We recognize that we're not just representing a case; we're honoring a life and standing with a family seeking answers, closure, and justice. Our commitment transcends the realms of law; it's about being a compassionate presence during a period of immeasurable grief.
Understanding can provide solace in such trying times. We're here to elucidate the nuances of wrongful death claims, helping you fathom the rights of survivors, potential compensations, and the legal pathways ahead. It's not merely a pursuit for restitution; it's a quest for justice, acknowledgment, and healing.
If you're grappling with such a profound loss, remember this: You have a team that understands the depth of your pain, ready to stand as both legal champions and empathetic supporters, ensuring the legacy of your loved one is preserved with dignity.
Choosing to work with Robert Hindin and Associates entails:
Heartfelt Empathy: We appreciate the gravity of wrongful death cases and approach each with profound reverence and compassion.
Transparent Guidance: We clarify the legal intricacies, ensuring you remain informed and empowered every step of the way.
Rigorous Pursuit: From gathering evidence to presenting the case, we are tenacious in our commitment to justice.
Holistic Support: Beyond seeking compensation, we aim to be pillars of strength, assisting in every possible aspect of healing and closure.
Enduring Dedication: Throughout the journey, for every challenge, we remain unwaveringly by your side, serving as both legal experts and compassionate confidants.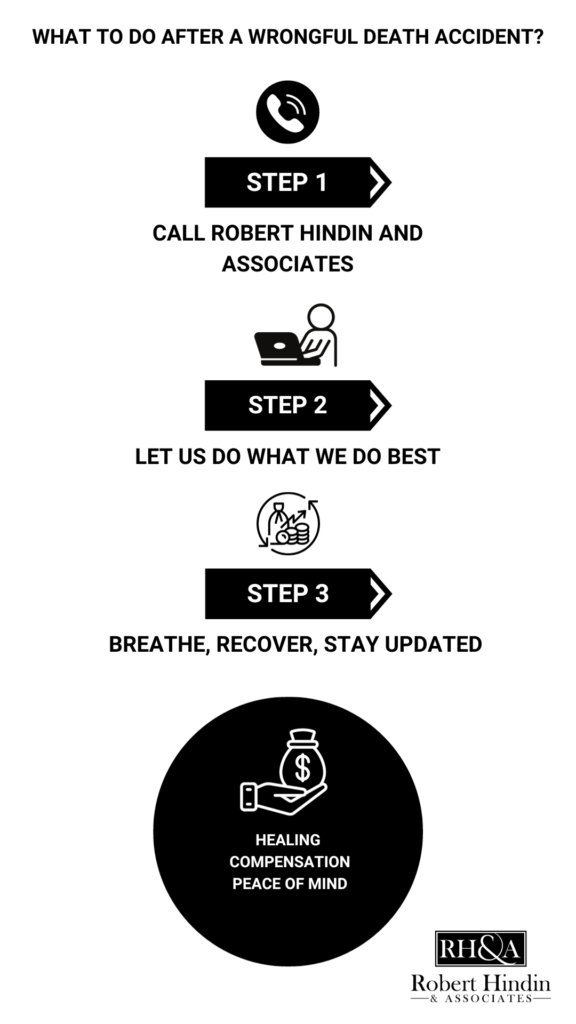 At Robert Hindin and Associates, our wrongful death accident attorneys have a proven track record of assisting hundreds of victims across diverse states.
We proudly offer our expert legal services in the following areas:
Los Angeles County Wrongful Death Accident Attorney
San Diego County Wrongful Death Accident Attorney
Orange County Wrongful Death Accident Attorney
Riverside County Wrongful Death Accident Attorney
San Bernardino County Wrongful Death Accident Attorney
Santa Clara County Wrongful Death Accident Attorney
Alameda County Wrongful Death Accident Attorney
Sacramento County Wrongful Death Accident Attorney
Contra Costa County Wrongful Death Accident Attorney
Fresno County Wrongful Death Accident Attorney