Cases we handle: CAR Accidents
Cases we handle: CAR Accidents
Navigating the aftermath of a car accident can be overwhelming. The sudden jolt, the blare of a horn, and in the next moment, life seems to stand still. It's more than just the immediate shock or the damage to your vehicle. There are questions about injuries, insurance, and the "what ifs" that keep replaying in your mind.
At Robert Hindin and Associates, we get it. Beyond the legalese and paperwork, there are real people facing real challenges. This isn't just about a case; it's about your life, your well-being, and your peace of mind. Our commitment is to stand by you, offering guidance, and ensuring you're not alone in this journey.
We prioritize informing you at every step. From understanding the importance of a timely medical check, even for that niggling pain, to guiding you on how to handle conversations with insurance companies, we've got your back. And, when it comes to the often complex legal pathways, we shoulder that burden for you, making sure your interests are protected.
If you or someone you care about finds themselves in the aftermath of a car accident, remember there's a team that's ready to help, ready to listen, and ready to turn this challenging chapter into a story of resilience and recovery.
When you entrust your case to Robert Hindin and Associates, here's what we promise to do for you:
Making Sense of It All: We'll break down the complex legal stuff so it makes sense to you.
Clear Communication: You'll always be in the loop, never left wondering about the status of your case.
Handling the Paperwork: Let us deal with the legal documents so you can focus on recovery.
Negotiating with Insurance: We'll advocate for the compensation you rightfully deserve.
Standing By You: From start to finish, in court or outside, we'll be right beside you.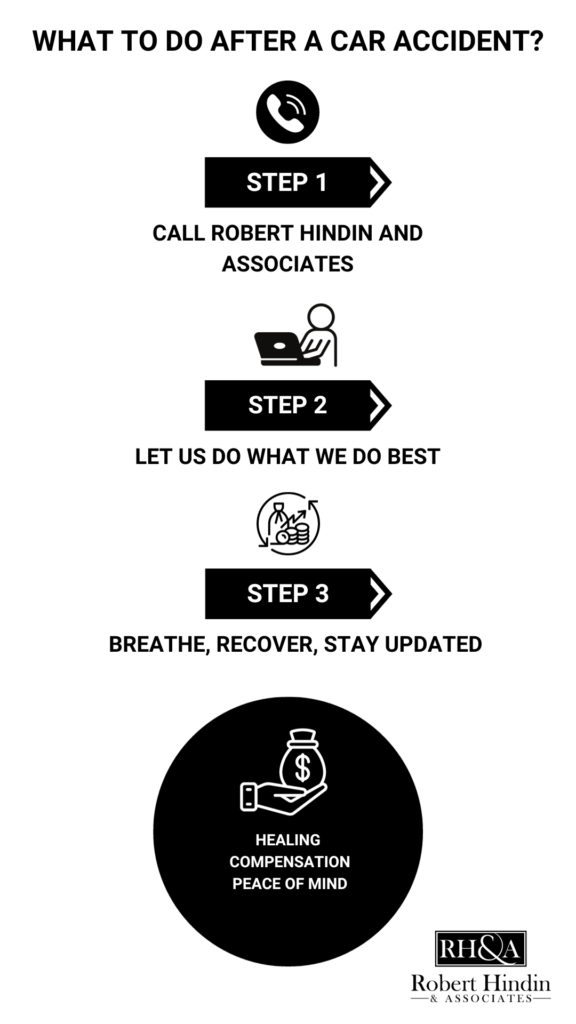 At Robert Hindin and Associates, our car accident attorneys have a proven track record of assisting hundreds of victims across diverse states.
We proudly offer our expert legal services in the following areas:
Los Angeles County Car Accident Attorney
San Diego County Car Accident Attorney
Orange County Car Accident Attorney
Riverside County Car Accident Attorney
San Bernardino County Car Accident Attorney
Santa Clara County Car Accident Attorney
Alameda County Car Accident Attorney
Sacramento County Car Accident Attorney
Contra Costa County Car Accident Attorney
Fresno County Car Accident Attorney