Cases we handle: CYCLING Accidents

Cases we handle: Cycling Accidents

There's a certain liberation that comes with pedaling down a path, feeling the wind rush past as the world blurs around you. But as a bicyclist, you're often at the crossroads of vulnerability. A split-second distraction, a car's blind spot, or a poorly marked lane can quickly turn a leisurely ride into a traumatic event. It's more than just a damaged bicycle or scraped knees; it's about safeguarding rights, dealing with often larger vehicles, and maneuvering through a legal system that might not always recognize the unique challenges cyclists face.
At Robert Hindin and Associates, we resonate with the cyclist's spirit. We understand the thrill of the ride and the risks that shadows it. Beyond the legal strategies and proceedings, we're deeply aware of the emotional and physical journey that follows a bicycle accident. Our approach isn't just procedural; it's deeply personal. We're here to champion your cause, ensuring your rights as a cyclist are upheld and your story is voiced with clarity and conviction.
Knowledge can be your best ally. We're devoted to guiding you through every aspect, ensuring you comprehend your rights, the nuances specific to bicycle accidents, and the paths to resolution. Our goal isn't just about seeking compensation; it's about ensuring you can get back on the saddle with confidence, knowing you have a team that's got your back.
If you or someone close to you has been through a bicycle accident, remember this: There's a team that understands the cyclist's path, ready to pedal alongside you, navigating every challenge with dedication, understanding, and unwavering commitment.
When you partner with Robert Hindin and Associates, here's what we bring to the table:
Genuine Empathy: As avid supporters of cycling, we get the highs and lows, shaping our approach to resonate with your experience.
Transparent Updates: We keep the legalities simple and straightforward, ensuring you're always informed.
Detail Mastery: From navigating accident reports to handling claims, we tackle the intricate details for you.
Cyclist Advocacy: We ensure that as a cyclist, you're given fair representation and treatment.
With You, Ride or Rest: Every question, every concern, we're here for you, ready to support and guide.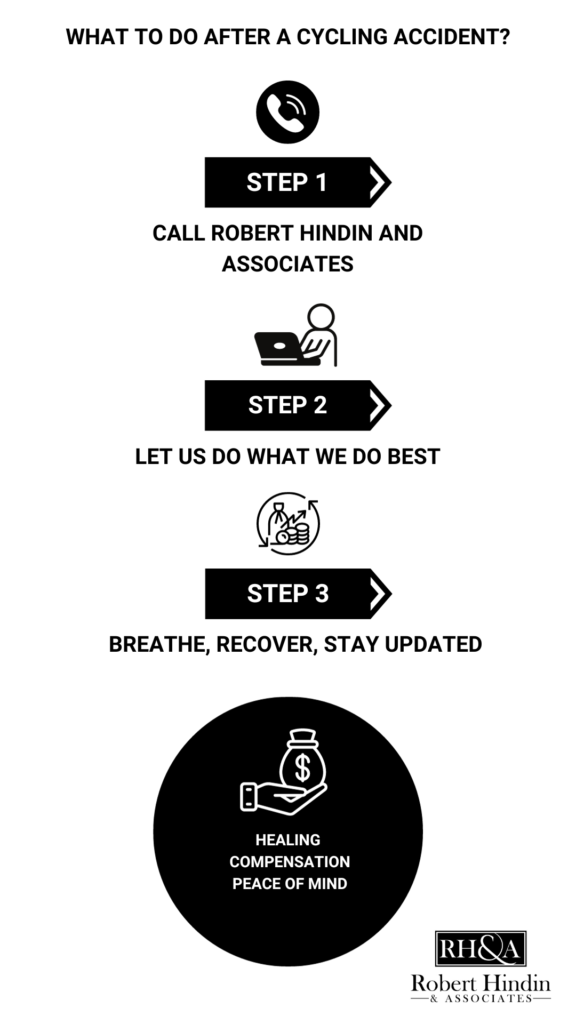 At Robert Hindin and Associates, our cycling accident attorneys have a proven track record of assisting hundreds of victims across diverse states.
We proudly offer our expert legal services in the following areas:
Los Angeles County Cycling Accident Attorney
San Diego County Cycling Accident Attorney
Orange County Cycling Accident Attorney
Riverside County Cycling Accident Attorney
San Bernardino County Cycling Accident Attorney
Santa Clara County Cycling Accident Attorney
Alameda County Cycling Accident Attorney
Sacramento County Cycling Accident Attorney
Contra Costa County Cycling Accident Attorney
Fresno County Cycling Accident Attorney