Cases we handle: MOTORCYCLE Accidents

Cases we handle: MOTORCYCLE Accidents

The freedom of riding a motorcycle is unmatched, but it also comes with unique vulnerabilities. When accidents happen, riders often face not just the physical impact but also a societal bias that might unfairly place the blame on them. It's not just about bent handlebars or a scratched helmet; it's about addressing prejudices, managing heightened medical concerns, and navigating through an often complicated legal landscape.
At Robert Hindin and Associates, we hold a special place for motorcyclists. We understand the passion for the open road and the risks it comes with. Beyond the legal intricacies, we know the personal journey of recovery can be both physically and emotionally taxing. We're here not just as your attorneys but as your allies, standing up against any unfair assumptions and making sure your story is heard and respected.
Being informed can make all the difference. We're committed to guiding you through every twist and turn, ensuring you're aware of your rights as a motorcyclist, and helping you understand the often complex nuances specific to motorcycle accidents. This journey isn't just about legal victories; it's about restoring your confidence and getting you back on the road with peace of mind.
If you or a loved one has experienced a motorcycle accident, take heart. There's a team that knows the road you're on, ready to ride alongside you, ensuring every challenge is met with expertise, empathy, and unwavering support.
Choosing to work with Robert Hindin and Associates means:
Real Understanding: We know motorcycles, the joys and the risks, and we tailor our approach accordingly.
Plain-Speak Updates: We keep the legal talk simple, ensuring you're always in the know.
Managing the Details: From claims to medical records, we've got the paperwork under control.
Fighting Prejudices: We advocate for you, ensuring you're never unjustly blamed or sidelined.
By Your Side, Mile by Mile: Whether it's a query, concern, or just a chat, we're here for you every step of the way.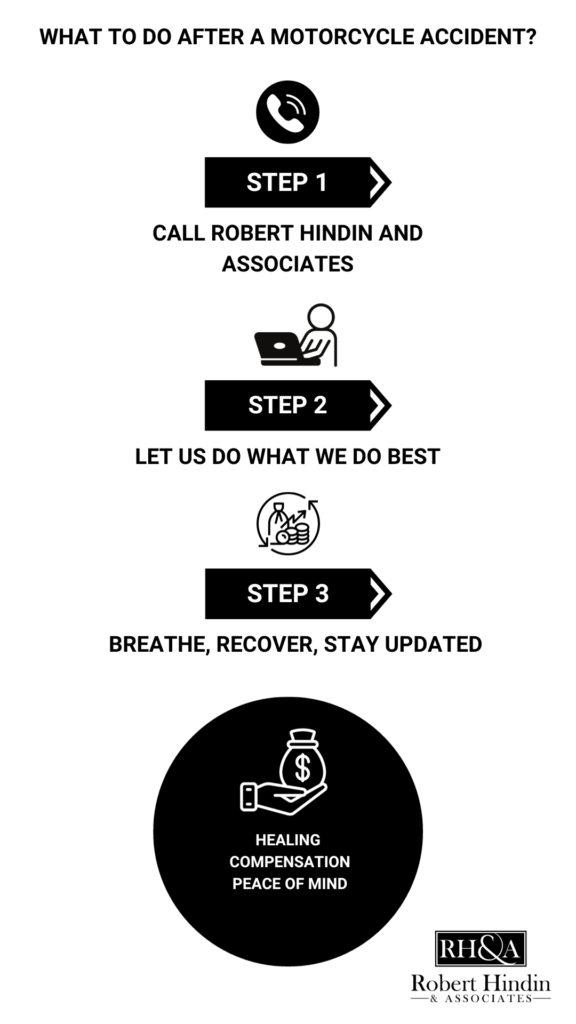 At Robert Hindin and Associates, our Motorcycle accident attorneys have a proven track record of assisting hundreds of victims across diverse states.
We proudly offer our expert legal services in the following areas:
Los Angeles County Motorcycle Accident Attorney
San Diego County Motorcycle Accident Attorney
Orange County Motorcycle Accident Attorney
Riverside County Motorcycle Accident Attorney
San Bernardino County Motorcycle Accident Attorney
Santa Clara County Motorcycle Accident Attorney
Alameda County Motorcycle Accident Attorney
Sacramento County Motorcycle Accident Attorney
Contra Costa County Motorcycle Accident Attorney
Fresno County Motorcycle Accident Attorney