Cases we handle: SLIP AND FALL Accidents
Cases we handle: Slip and FaLL Accidents
It can happen in the blink of an eye: one misstep, an unseen wet floor, or an unexpected obstruction, and suddenly you find yourself on the ground, shaken and possibly injured. Slip and fall accidents may sound trivial to some, but the repercussions can be substantial, ranging from minor sprains to serious fractures or even long-term health issues. It's not just about the immediate pain; it's about the medical bills, the lost workdays, and the ripple effect it can have on one's life.
At Robert Hindin and Associates, we understand the gravity of slip and fall incidents. We know that behind each case is a person grappling with discomfort, anxiety, and uncertainty. Our commitment goes beyond just seeking compensation; it's about ensuring that your voice is heard, your concerns are addressed, and your path to recovery is as smooth as possible.
Knowledge can be a powerful ally in these situations. We're here to guide you, shedding light on the complexities of premises liability, helping you understand property owner responsibilities, and ensuring you're aware of your rights and potential entitlements. This isn't merely a legal journey; it's about regaining your confidence and sense of security.
If you or a loved one has experienced a slip and fall incident, remember this: You have a dedicated team ready to support, offering expertise that stems from genuine care, a team that's geared to walk beside you every step of the way.
When you partner with Robert Hindin and Associates, you can expect:
Genuine Care: We recognize the challenges of slip and fall incidents and approach each case with unwavering empathy.
Straightforward Guidance: We simplify the legal complexities, ensuring you're consistently in the loop.
Efficient Management: From collecting evidence to liaising with property owners, we handle the details meticulously.
Dedication to Your Well-being: Beyond compensation, we're focused on your overall recovery and peace of mind.
Your Reliable Support System: We're here for every query, every need, ensuring you always have a dependable shoulder to lean on.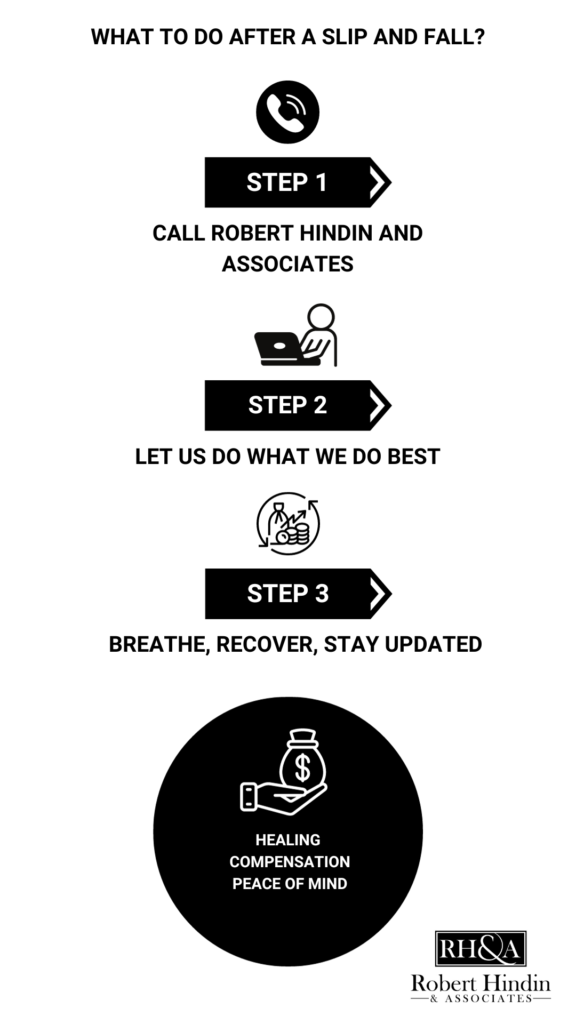 At Robert Hindin and Associates, our slip and fall accident attorneys have a proven track record of assisting hundreds of victims across diverse states.
We proudly offer our expert legal services in the following areas:
Los Angeles County Slip and Fall Accident Attorney
San Diego County Slip and Fall Accident Attorney
Orange County Slip and Fall Accident Attorney
Riverside County Slip and Fall Accident Attorney
San Bernardino County Slip and Fall Accident Attorney
Santa Clara County Slip and Fall Accident Attorney
Alameda County Slip and Fall Accident Attorney
Sacramento County Slip and Fall Accident Attorney
Contra Costa County Slip and Fall Accident Attorney
Fresno County Slip and Fall Accident Attorney