Cases we handle: RIDeSHARE Accidents
Cases we handle: RIDESHARE Accidents
In today's digital age, ridesharing platforms like Uber and Lyft have become an integral part of our daily lives, offering convenience at the tap of a screen. However, with this modern mode of transportation come unique challenges and uncertainties, especially when an accident occurs. Rideshare accidents aren't just about the immediate collision; they involve navigating the complexities of multiple insurances, driver responsibilities, and platform policies.
At Robert Hindin and Associates, we're acutely aware of the intricacies surrounding rideshare accidents. We recognize that beyond the trauma of the incident itself, there's the added stress of deciphering accountability in the world of app-based transportation. Our mission isn't just to represent you legally but to simplify the maze, ensuring that your rights are unequivocally protected and your recovery is prioritized.
Clarity can be a lifeline in these situations. We're dedicated to guiding you through the specifics of rideshare regulations, helping you discern between driver and platform responsibilities, and ensuring you're equipped to make informed decisions. This isn't just a legal journey; it's about regaining your sense of security and trust in a world that's constantly evolving.
If you or someone close has been involved in a rideshare accident, here's what you need to remember: There's a dedicated team versed in the unique challenges of rideshare incidents, ready to support, advise, and steadfastly champion your cause.
Engaging with Robert Hindin and Associates provides:
Adapted Expertise: We stay abreast of the ever-changing rideshare landscape, ensuring we're equipped to handle its unique challenges.
Crystal-clear Counsel: We demystify the tangled web of rideshare regulations and responsibilities for your benefit.
Thorough Advocacy: From liaising with rideshare platforms to insurance negotiations, we're meticulous in our pursuit of your rights.
Restorative Focus: Our goal goes beyond compensation; we aim to restore your faith in the convenience of digital transportation.
Consistent Backup: Throughout the process, for every question or concern, we stand firmly with you, offering both expertise and empathy.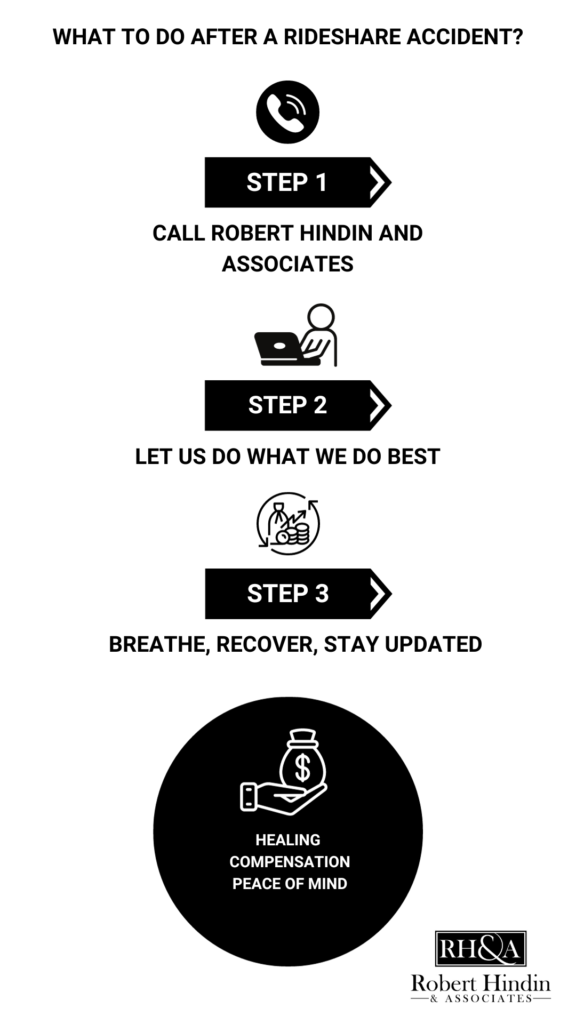 At Robert Hindin and Associates, our Rideshare accident attorneys have a proven track record of assisting hundreds of victims across diverse states.
We proudly offer our expert legal services in the following areas:
Los Angeles County Rideshare Accident Attorney
San Diego County Rideshare Accident Attorney
Orange County Rideshare Accident Attorney
Riverside County Rideshare Accident Attorney
San Bernardino County Rideshare Accident Attorney
Santa Clara County Rideshare Accident Attorney
Alameda County Rideshare Accident Attorney
Sacramento County Rideshare Accident Attorney
Contra Costa County Rideshare Accident Attorney
Fresno County Rideshare Accident Attorney