Cases we handle: DOG BITE Accidents
Cases we handle: DOG BITE Accidents
The companionship of a dog can be one of life's greatest joys, but sometimes, unforeseen circumstances can transform a docile pet into a source of harm. Dog bites can be both physically painful and emotionally scarring. It isn't just about a wound or a scar; it's about the sudden shock, the trauma of trust broken, and navigating a legal landscape that intertwines with the complexities of animal behavior.
At Robert Hindin and Associates, we understand the delicate nature of dog bite incidents. We know it's not just about assigning blame but about understanding the layers of emotions, from compassion for the animal to seeking justice for the pain endured. Our approach is nuanced and human-centric. We stand as your advocates, ensuring your voice is heard, your pain acknowledged, and your rights protected.
Being in the know can significantly ease the process. We're dedicated to guiding you through every facet, helping you understand the specifics of dog bite laws, the responsibilities of pet owners, and the avenues for healing and compensation. This journey isn't solely about legal restitution; it's about emotional recovery and finding closure.
If you or someone you cherish has experienced a dog bite, it's crucial to know this: There's a team that grasps the depth of the situation, ready to support, advise, and stand by you through the intricacies and emotions that such incidents bring.
Choosing to work with Robert Hindin and Associates means:
Depth of Understanding: We approach dog bite incidents with empathy, recognizing the physical and emotional toll they take.
Clarity Amidst Complexity: We demystify the laws and regulations, ensuring you're always well-informed.
Seamless Handling: From medical documentation to witness statements, we manage the details for your peace of mind.
Balancing Justice and Empathy: We seek rightful compensation while respecting the complexities of animal incidents.
By Your Side, Through Thick and Thin: We're here for every question, every emotion, ensuring you never feel alone in your journey.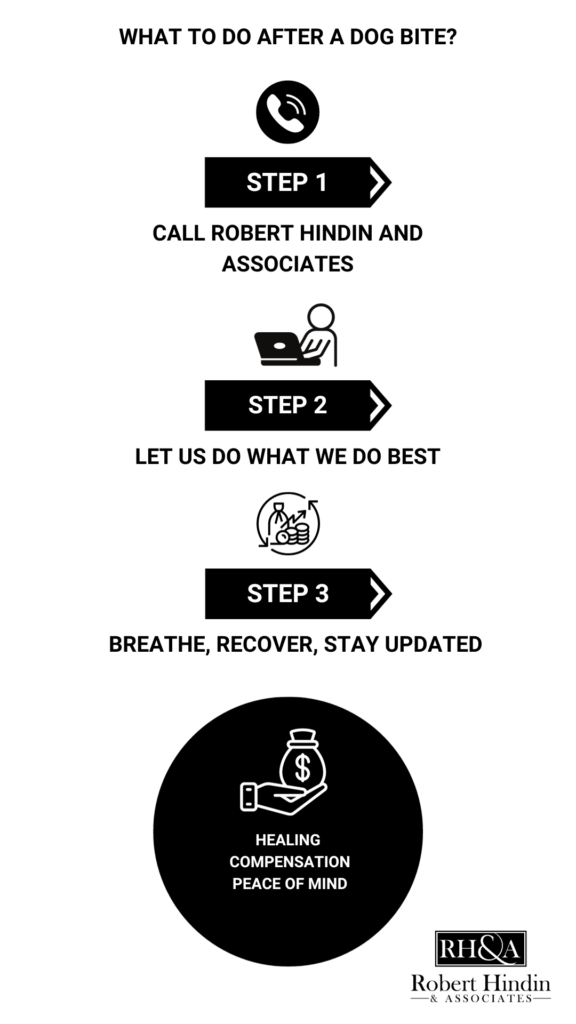 At Robert Hindin and Associates, our dog bite accident attorneys have a proven track record of assisting hundreds of victims across diverse states.
We proudly offer our expert legal services in the following areas:
Los Angeles County Dog Bite Accident Attorney
San Diego County Dog Bite Accident Attorney
Orange County Dog Bite Accident Attorney
Riverside County Dog Bite Accident Attorney
San Bernardino County Dog Bite Accident Attorney
Santa Clara County Dog Bite Accident Attorney
Alameda County Dog Bite Accident Attorney
Sacramento County Dog Bite Accident Attorney
Contra Costa County Dog Bite Accident Attorney
Fresno County Dog Bite Accident Attorney