Cases we handle: BRAIN INJURY ACCIDENT
Cases we handle: BRAIN INJURY Accidents
The human brain is not only the epicenter of thought and emotion but also the core of our identity. A brain injury, thus, is more than just a physical ailment; it can alter one's very essence, impacting memory, behavior, and countless facets of daily life. Such injuries don't just resonate in terms of immediate trauma; they reverberate through time, often leading to long-term challenges, rehabilitation, and an altered life trajectory.
At Robert Hindin and Associates, we approach brain injury cases with a profound sense of responsibility and care. We understand that we're not merely addressing an injury; we're dealing with a life that may be permanently transformed. Our commitment is to stand with you and your loved ones, ensuring that the journey ahead is navigated with expertise, empathy, and unwavering support.
Understanding is crucial in these moments. We're devoted to guiding you through the medical, legal, and personal intricacies of brain injuries, ensuring you're informed about treatments, rehabilitation, and potential compensations. This isn't just a pursuit of restitution; it's about charting a course for adaptation, recovery, and hope.
If you or a loved one is grappling with the effects of a brain injury, bear this in mind: You have a dedicated team that understands the depth of your challenge, ready to advocate fiercely and support you with genuine compassion through each phase of your journey.
When you ally with Robert Hindin and Associates, here's our commitment:
Deep Sensitivity: We recognize the profound impact of brain injuries and approach each case with the utmost respect and empathy.
Clarity in Complexity: We simplify the multifaceted world of brain injury claims, ensuring you remain informed and empowered.
Tenacious Representation: From gathering medical evidence to arguing your case, we're relentless in our pursuit of justice for you.
Holistic Healing Focus: Beyond seeking compensation, our aspiration is to facilitate paths to recovery, adaptation, and renewed hope.
Unwavering Support: At every step, in every challenge, we remain steadfastly by your side, merging legal expertise with genuine compassion.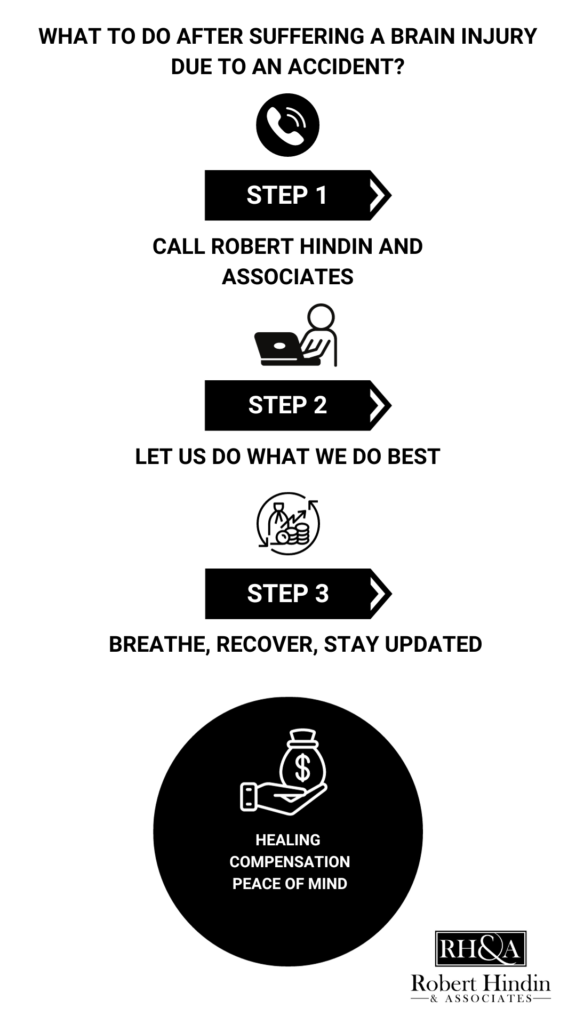 At Robert Hindin and Associates, our Brain Injury accident attorneys have a proven track record of assisting hundreds of victims across diverse states.
We proudly offer our expert legal services in the following areas:
Los Angeles County Brain Injury Accident Attorney
San Diego County Brain Injury Accident Attorney
Orange County Brain Injury Accident Attorney
Riverside County Brain Injury Accident Attorney
San Bernardino County Brain Injury Accident Attorney
Santa Clara County Brain Injury Accident Attorney
Alameda County Brain Injury Accident Attorney
Sacramento County Brain Injury Accident Attorney
Contra Costa County Brain Injury Accident Attorney
Fresno County Brain Injury Accident Attorney